Volvo 7700 FL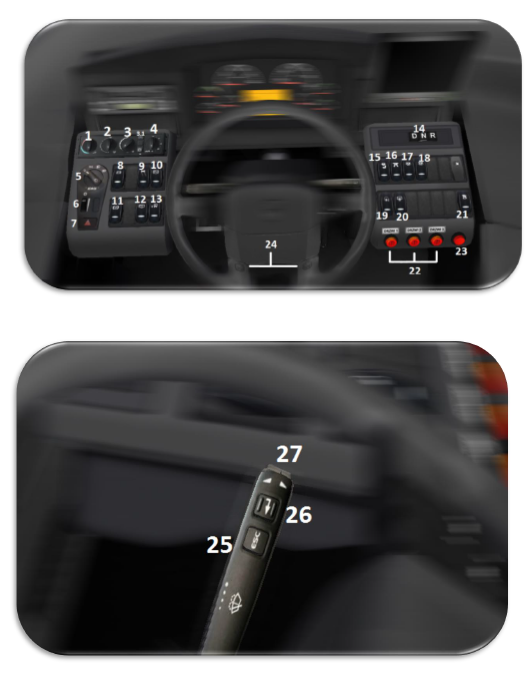 1- Driver air flow temperature
2- Driver airflow direction
3- Blow-in output (3.1 internal circuit)
4- Class heating temperature
5- Light knob
6- Backlight intensity
7- Hazard warning lights switch
8- Power switch
9- ASR switch
10- NO FUNCTION
11- Retarder switch
12- Height adjustment
13- Kneeling
14- Transmission buttons
15- Driver lighting
16- Front deck lighting
17- Class I lighting
18- Class II lighting
19-NO FUNCTION
20- NO FUNCTION
21- Door and half locks
22- 1,2,3 door buttons
23- Button to open all doors
24- Horn
25- On-board computer BACK
26- On-board computer ENTER
27- On-board computer UP / DOWN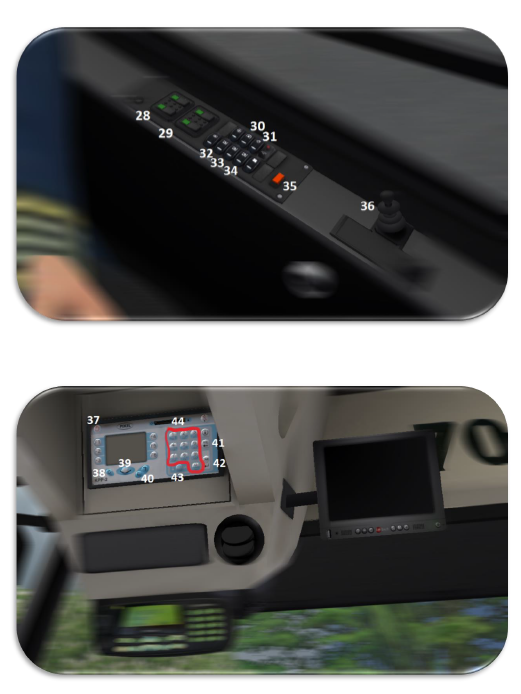 28- Rear sunroofs
29- Front sunroof
30- NO FUNCTION
31- Door programming (but a warm button that only opens the door)
32- Switch and blowers
33- Blower switch II
34- Blower switch III
35- Parking brake lock
36- Handbrake
37- Pixel KPP-2 SWITCH
38- Pixel KPP-2 CANCEL
39- Pixel KPP-2 CONFIRM
40- Pixel KPP-2 UP / DOWN
41- Pixel KPP-2 NO
42- Pixel KPP-2 YES
43- Pixel KPP-2 CHANGE
How to start the bus?
1. Press the E button
2. When you hear the chime, press M
3. Press M again
4. After the clock is fully initialized, you can start the engine, so press M again
Light control works just like in Solaris, i.e. by using the L / Shift + L keys.
Pixel system user manual
Login: 1111
Password: 666666
A)
I Select a schedule
Option II will be selected automatically
III Accept the selected option
IV Done
B)
And Enter Menu / Line
II Enter Line Number
III Select a direction from the list
IV Accept
V Done